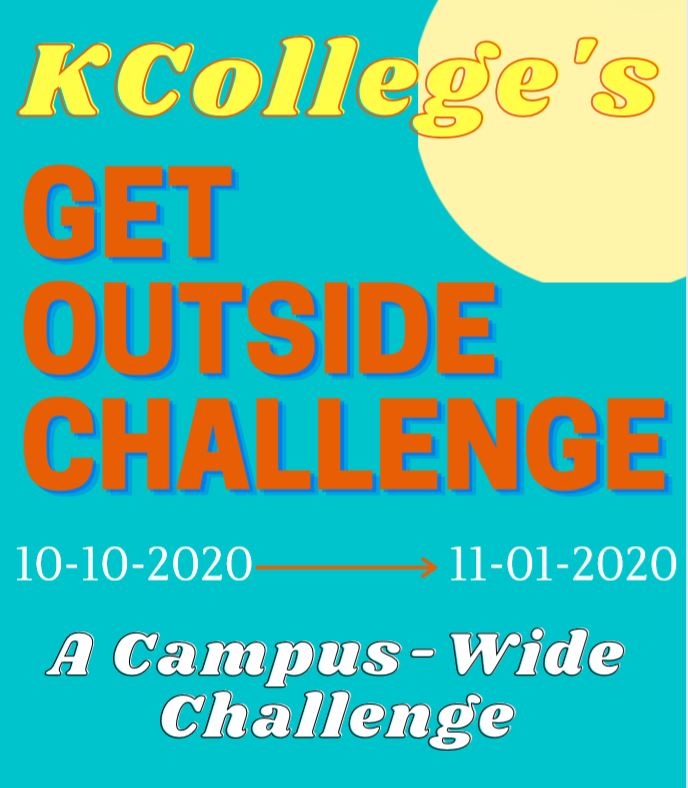 Register for the Get Outside Challenge
---
What is the Get Outside Challenge?
Put together a team of up to five K students, faculty, staff, or alumni and register for the challenge. Walk, run, bike, ski, swim, paddle or get creative with how you get active outside (all activities simply must be outdoors and human-powered, not motorized). You and your team will track your miles from October 10th – November 1st and log the miles online as you go.
As your team logs miles, you'll virtually travel 1000 miles together on the North Country Trail from K's Campus to the Mackinac Bridge, earning badges along the way by hitting landmarks at certain mile markers. You can also earn mileage boosts by competing in weekly bonus challenges (to be announced). Whether your team travels the whole length of the NCT section or just a few miles, you and your teammates will have the chance to win prizes along the way! Remember, you're logging your hours virtually, so your team doesn't have to be living together or completing the hours together – you could be living in different cities or states! – and you can complete hours doing all types of activities outdoors. Recruit your team, register for the challenge, and start logging those miles!
Registration Cost: Free!
---
Are you looking for promotional material to help spread the word about the challenge? Download the toolkit below to use in an email or on a social media account.
---
Questions about the virtual challenge?
How do I register for the challenge?

Go to the event registration page and click on the "Sign Up" button found under events. If you are the first one on your team to register, you'll create your team name too. Or if a teammate has already created your team, you can simply join the team during the registration process.
What is the cost to participate?

Absolutely free! You'll also get a free sticker for participating. And the chance for you and your team to win other prizes!
What types of outdoor activities can I do to log miles and help to earn badges for my team?

Run, walk, bike, hike, paddle, roll, crawl, hopscotch – there is so much opportunity! Really, we are hoping that folks will get active outside so we're pretty open to what type of activity you're completing, as long as it's outdoors and human-powered (motorized activities outdoors don't count, sorry!). Not sure how to log your activity mileage for something obscure like hula hooping? Get in touch with us and we can help you out (outdoor.programs@kzoo.edu).
How do I log my miles?

Once you've registered and joined your team, between October 10th and November 1st, log back in to Runsignup, click on Results, search for yourself using your name or email address, and then click log results or record activity. Enter the mileage and activity that you completed. Repeat this process each time you log miles.
I want to participate but I don't have a team…

Contact us at outdoor.programs@kzoo.edu or message us on social media and we will help you find a team to join!
What are other ways that I can earn miles?

Keep checking back on this page or our social media pages throughout the challenge as we'll be posting updates of ways that you and your team can earn mileage boosts – from sitting outside to do your homework to picking up trash on a local trail while you hike, we've got some neat ideas coming your way for mileage boosts.
If you didn't find an answer to your question, contact us at outdoor.programs@kzoo.edu!