Interested in learning more about backpacking or working on planning your own trip? Follow along with us as we update resources weekly during the Fall 2020 term!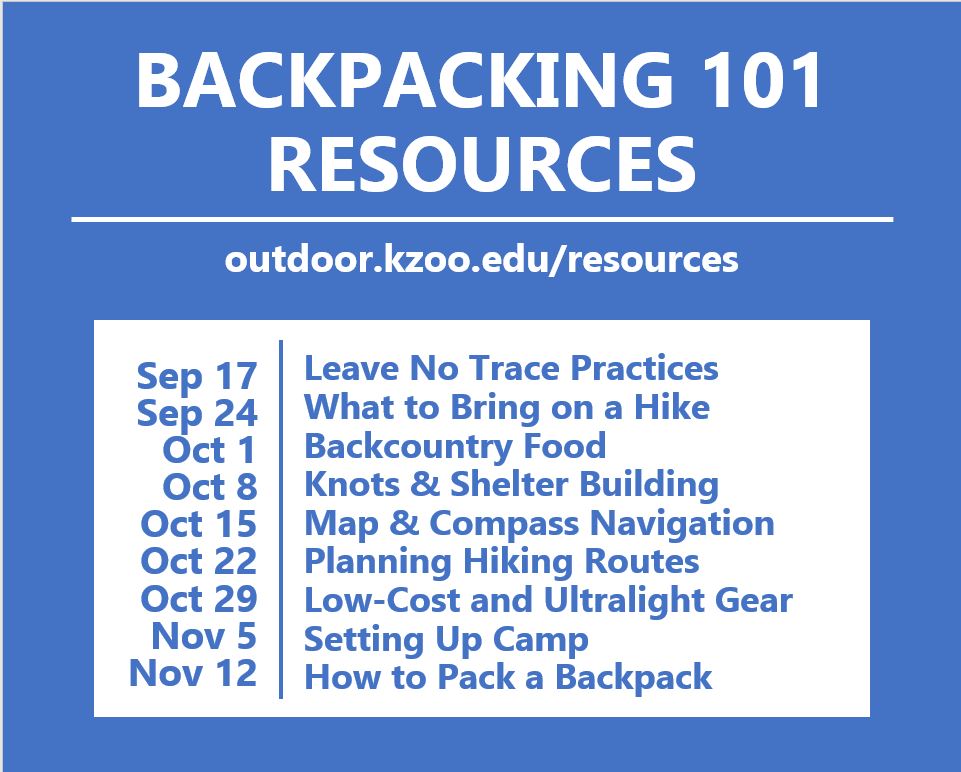 ---
Topic #1: Getting Started Outside: Leave No Trace Practices
Reducing our impact on the outdoor environment is important. The Seven Principles of Leave No Trace (LNT) help us to learn why and how to minimize our impact.
Plan ahead and prepare
Travel and camp on durable surfaces
Dispose of waste properly
Leave what you find
Minimize campfire impacts
Respect wildlife
Be considerate of other visitors
Check out The Wilderness Society's summary article to learn more about each of the 7 Principles. The Center for Outdoor Ethics LNT website includes additional resources about why Leave No Trace is important.
---
Topic #2: What to Bring on a Hike
The Ten (+1) Essentials: Important items to bring with you on any hike, whether it's a day hike or extended backpacking trip.
Navigation (map, compass)
Illumination (flashlight or headlamp, with extra batteries)
Sun Protection (sunscreen, hat, sunglasses)
Nutrition (extra food)
Hydration (extra water)
Insulation (extra clothing)
Fire (fire starter, waterproof matches)
Emergency shelter (tent, tarp, or emergency/fire blanket)
Repair kit and tools (knife, duct tape, paracord)
First Aid Kit
*In the era of COVID-19, it's also important to bring a face mask or covering and hand sanitizer!
Compiling gear can get expensive, so here are a few low-cost tips to gathering the 10 Essentials:
Check local thrift stores and garage sales for extra clothing layers – you don't have to buy new, expensive layers to stay warm and dry
Ask your friends and family if they have any of the items that you can borrow/use or if you're hiking with a friend, split up the list!
Use free versions of apps such as AllTrails or Avenza to download maps of local trails and utilize the GPS locator in the apps as well while you're hiking
Looking for a low-cost and lightweight emergency shelter option? Bring a heavy duty garbage bag with you. This can be used in an emergency situation with shoelaces or some thin paracord to make a tarp-like shelter. (Or you can use it at the end of your hike to contain muddy or sweaty hiking boots and clothes.)
Instead of buying a pre-made First Aid Kit, grab essential first aid items from your home, your friend, or a local store and throw them in any ol' bag. This is often cheaper than buying a pre-made kit.
---
Topic #3: Backcountry Food
When going on an overnight backpacking trip, food is one of the most important things you're bringing with you. It also requires some planning. How are you cooking your food? How much does it all weigh? Is the food you're bringing providing enough calories and nutritional value to keep you energized on a long hike day? Explore the attached resources to learn more about nutrition on the trail and how to plan a menu. You can go a lot of different ways when menu planning too: are you focused on being ultralight? Do you want to create your own dehydrated backpacking meals? Do you want to go cheaper and more simple or spend a little more and buy pre-made backpacking meals? Do you want to carry more weight, lots of fresh vegetables and be a master chef in the backcountry? Think about your goal for food and then lay out a meal-by-meal plan.
Interested in learning more about backcountry nutrition and meal planning? Check out these resources:
---
Topic #4: Knot-Tying
Knowing a variety of knots is valuable when you're backpacking – you can tie down tarps, tents, and rain flys or hang a bear bag or tie a drying line for your wet clothes after a rain storm. First, here's some basic knot-tying lingo.
Four Knots to Learn That Will Help in the Backcountry:
---
Topic #5: Map & Compass Navigation
---
Topic #6: Planning Backpacking Routes
Looking to plan an overnight backpacking trip? Not only is it important to have gained some skills and gathered the necessary gear, but it's also important to plan out your route for your trip.
Figure out what your goals are for the trip – a relaxing hike through the forest? Looking for great outlooks? Wanting to log a bunch of miles?
Find the area where you want to hike and obtain a topographical map of the trails (use Google Maps to find green spaces and then research those spots, Google searches for local trails, or apps like AllTrails to find trails)
Determine your hiking route: mark waypoints along the trail such as the trailhead, viewpoints, water sources, emergency access points, and campsites
Gather other important pieces of information: predicted weather conditions, estimated mileage and hiking time per day, any necessary permits for the area you'll be in, the phone number of the managing entity of the area
Make two copies of your trip plan – one for you and another to share with an emergency contact
Want to do some more research and learning about how to plan for a trip? Check out these additional resources:
---