Interested in learning more about backpacking or working on planning your own trip? Follow along with us as we update resources weekly during the Fall 2020 term!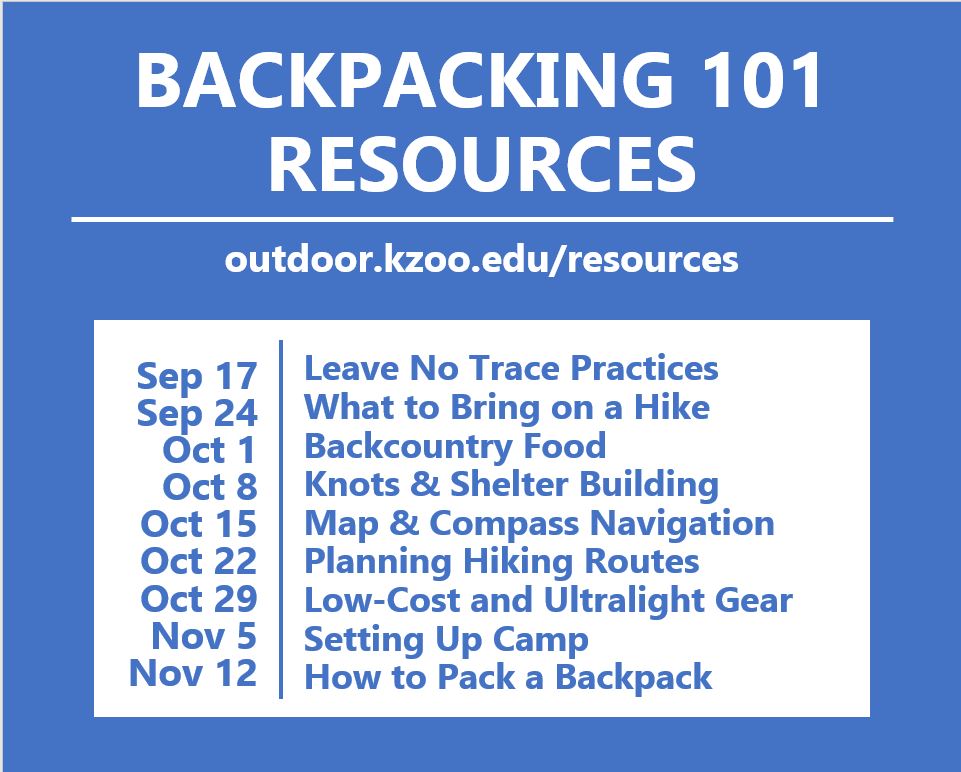 ---
Topic #1: Getting Started Outside: Leave No Trace Practices
Reducing our impact on the outdoor environment is important. The Seven Principles of Leave No Trace (LNT) help us to learn why and how to minimize our impact.
Plan ahead and prepare
Travel and camp on durable surfaces
Dispose of waste properly
Leave what you find
Minimize campfire impacts
Respect wildlife
Be considerate of other visitors
Check out The Wilderness Society's summary article to learn more about each of the 7 Principles. The Center for Outdoor Ethics LNT website includes additional resources about why Leave No Trace is important.
---
Topic #2: What to Bring on a Hike
The Ten (+1) Essentials: Important items to bring with you on any hike, whether it's a day hike or extended backpacking trip.
Navigation (map, compass)
Illumination (flashlight or headlamp, with extra batteries)
Sun Protection (sunscreen, hat, sunglasses)
Nutrition (extra food)
Hydration (extra water)
Insulation (extra clothing)
Fire (fire starter, waterproof matches)
Emergency shelter (tent, tarp, or emergency/fire blanket)
Repair kit and tools (knife, duct tape, paracord)
First Aid Kit
*In the era of COVID-19, it's also important to bring a face mask or covering and hand sanitizer!
Compiling gear can get expensive, so here are a few low-cost tips to gathering the 10 Essentials:
Check local thrift stores and garage sales for extra clothing layers – you don't have to buy new, expensive layers to stay warm and dry
Ask your friends and family if they have any of the items that you can borrow/use or if you're hiking with a friend, split up the list!
Use free versions of apps such as AllTrails or Avenza to download maps of local trails and utilize the GPS locator in the apps as well while you're hiking
Looking for a low-cost and lightweight emergency shelter option? Bring a heavy duty garbage bag with you. This can be used in an emergency situation with shoelaces or some thin paracord to make a tarp-like shelter. (Or you can use it at the end of your hike to contain muddy or sweaty hiking boots and clothes.)
Instead of buying a pre-made First Aid Kit, grab essential first aid items from your home, your friend, or a local store and throw them in any ol' bag. This is often cheaper than buying a pre-made kit.